CAPTIVE PRINCE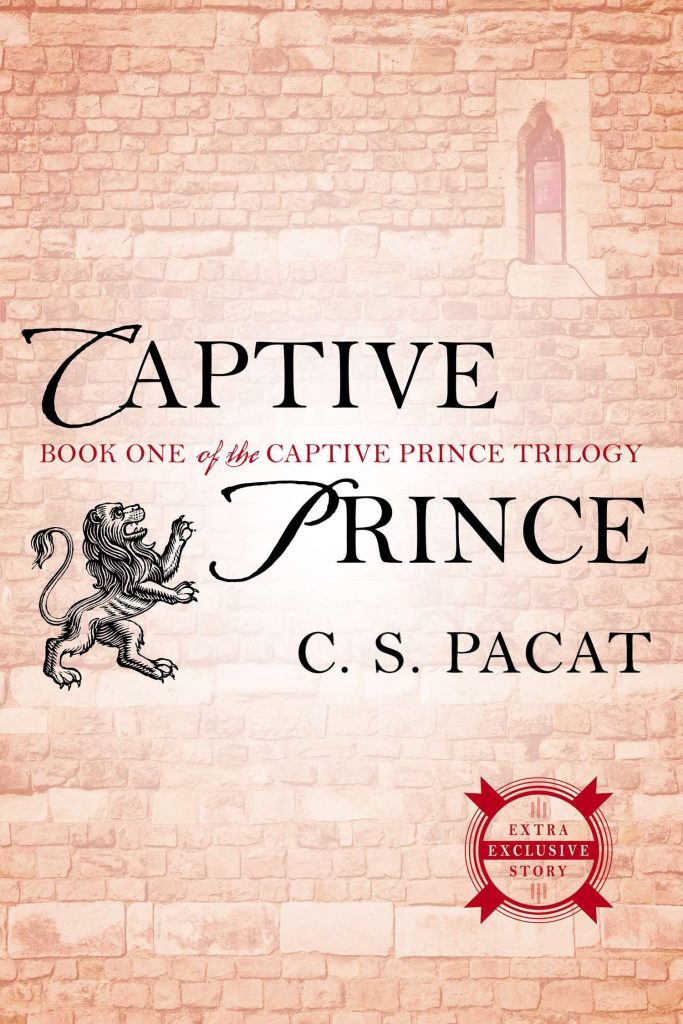 AUTHOR: C.S.PACAT
PAGES: 240 pages
PUBLISHED DATE: 22nd May 2012
GENRE: Fantasy Fiction
MY RATINGS: 4/5
Book 1 in THE CAPTIVE PRINCE TRILOGY
CONVINCING YOU TO READ THIS IN 6 WORDS:
       Different world-building, complex characters, human slavery & pets, Slow burn, enemies to lovers, betrayals and reluctant alliances.
CONTENT WARNINGS: Human Slavery, Abuse, Trauma and Rape
SUMMARY:
This book begins with Damiaons, crown Prince of Aikelos finding himself in chains in his own kingdom after the death of his father. In his confused state, Damen doesn't realise what is happening and how he is shackled in his own home. When he inquired, a soldier rudely commented that it was on the order of the King. The King that the soldiers were talking about was none other than his half-brother Kastor. Damen pleaded to meet his brother but his pleas were ignored. And he found himself drugged and shipped as a pleasure slave to the enemy country. When Damen is gaining his consciousness, he realises where he is and who is in front of him. His new Master is physically everything Damen is attracted in for a lover. But he is also someone who in the whole of Vere has who has more reason to hate him.
"Laurent could inspire homicidal tendencies simply by breathing."
His master, Laurent, the crown Prince of Vere is known for his beauty. But that is just one among the other describes the cold, frigid, unattainable Prince. And true to his titles, every interaction between the two Prince's is nothing but testing waters. At times, unknowingly crossing the line, at times misunderstanding the Regent Of Vere. But Damen had one goal in his mind, try to escape the treacherous court and go back to his people. But in the court where everything is layered upon layer, it takes Damen too long to understand how things that one says and one does are on two different spectrums.
Every interaction that Damen experiences in the Court of Vere made him feel sick. But the will to protect the other slaves and go back to his people kept him going. He struck a deal with Laurent and offered him his obedience in exchange for the safety of the other Aikelon slaves. And thus began the reluctant alliance between the two. But nothing was ever easy in Vere. A tragedy struck and Damen managed to save Laurent's life and at the same time found an opening to escape the Palace.
"You seem to vacillate between assistance and assault. Which is it?'
'I'm not surprised you've driven three men to try and kill you, I'm only surprised there weren't more,' said Damen, bluntly.
'There were,' said Laurent, 'more." 
But just as fast as Damen managed to escape, he was caught. And it was only after Laurent's acceptance to border duty, Damen was pardoned. Once again locked up in a small room, Damen reflects upon everything and realises things that he ignored before. And the realisations shocked him. He demanded an audience with the Prince but after everything will he be granted that audience?
Will Damen's revelation gain him some favours or will be where he is, in a small room in Vere as a Pleasure slave?
MY THOUGHTS 
Captive Prince by C.S.Pacat is one of the most intriguing foundation books for the series that I have come across. The unique world-building, complex characters and mind-blowing plot forced me to binge read. I like knowing that the book will make me question my existence and yet knowing nothing about the book. Tricky, I know. And yet that was what happened here. I knew nothing, absolutely nothing about the book and started reading this. And to date, I think it is the best decision of my life. I have already re-read it 3 times and twice more on audiobooks.
Captive Prince is the first book in the trilogy and thus lays the foundation for the other two books. Despite some similarities in the world, the world Captive Prince is set in isn't normal. Here, we have humans as slaves and pets. We witness people participating in various sexual acts within the courts. And rapes are just as normal. By no means it is an ideal world. Yet, I would suggest to give this series a try. I think it shows the beauty and efforts on the part of the author that despite heavy topics, every scene, every small-small thing did have a reason behind. Captive Prince had so many chances where it could go from being the beginning to a masterpiece to something very destructive. And for me, Pacat managed to make it a masterpiece with flying colours.
Some side note: Did you know that before Captive Prince was traditionally published, it was posted on Liv Journal? 
I am a fan of brilliantly written characters. I don't care if they are good or bad till they are well-written. And I loved the characters so much here. And it isn't easy because they aren't that easy to love or hate. They test our patience, make us question everything and yet we grow to like them. Every interaction, every part, it seemed I was looking at something different. While you can gauge the main nature of the characters, the constant growth on their part was commendable. If this doesn't show the brilliance of the author then I don't know what will.
"Laurent's fair skin and blue eyes were a combination that was rare in Patras, rarer in Akielos, and a particular weakness of Damen's."
The plot for Captive Prince on outside can seem basic but believe me when I say this that I was so invested in the plot that I could not stop reading. It took me less than a day to finish this book (And less than 2 days to finish all 3 books). The pacing of the book wasn't rushed and despite the change in the world, the details were explained without dumping information. The world-building isn't the best out there, I admit. Personally, I think this book is more about characters.
I have to admit, despite the scenes featuring abuse and rapes, I didn't find the scenes to be forced. I mean, the scenes were not simply added to bridge between the plots but as I said before they all- even the dark ones had it's purpose.
"Is there anyone at this court who isn't my enemy?"
"Not if I can help it," Laurent said."
Captive Prince, being from Damen's point of view had a balanced outlook. While he was straightforward in nature, Vere was a kingdom of vipers. The contrast was simply amazing. Though I sometimes do wonder if this was in Laurent's Point of View, would this series be a little darker or lighter?
Fanfiction: Captive Prince in Laurent's Point of View can be found here.
I genuinely think this series should rank in the slow burn category, because in the course of 240 pages here, there isn't even a single interaction that you can point and say, okay, here I can see the potential for them as lovers.
I cannot stress enough about how the other books are better than the first one. At least, in terms of content. Captive Prince deals with heavy topics but the other two books, though have some heavy issues, they don't focus on such heavy topics.
"I don't know how this interrogation found its way into my bed. May I ask where I can expect it to travel next?"
I never thought about politics in an interesting way. Even when I read books before, the point of Politics didn't even come to my notice. But after reading the dealings and manoeuvre in this series, I am planning to read some books to understand politics better.
I would recommend this book to everyone out there, whether you read M/M romance or not, whether politics bores you or interests you, irrespective of your reading tastes, this series is a must read except for those who are easily triggered. This isn't a rose petal love story but rather full of thorns.
I don't generally use audiobooks because I like to mark sentences and chapters and annotate every detail, but I do have re-reads using Audiobooks and I honestly loved Captive Prince's audiobook. It did help me improve my pronunciation of certain names.
Also, if there are any books that somehow match this theme, please let me know.
BLURB
Damen is a warrior hero to his people, and the rightful heir to the throne of Akielos. But when his half brother seizes power, Damen is captured, stripped of his identity, and sent to serve the prince of an enemy nation as a pleasure slave.
Beautiful, manipulative, and deadly, his new master, Prince Laurent, epitomizes the worst of the court at Vere. But in the lethal political web of the Veretian court, nothing is as it seems, and when Damen finds himself caught up in a play for the throne, he must work together with Laurent to survive and save his country.
For Damen, there is just one rule: never, ever reveal his true identity. Because the one man Damen needs is the one man who has more reason to hate him than anyone else…
SPOILER ZONE:
I was so shocked that I didn't see it coming but the whipping scene has my heart. I loved how it was written and how it showed Laurent's cruel character. Every detail in that scene has my heart.
Nicaise forking Damen is a mood.
That's all for now, you can find my series review here.
You can buy Captive Prince here.
A review of A Court of Silver Flames can be found here.