The Poison Song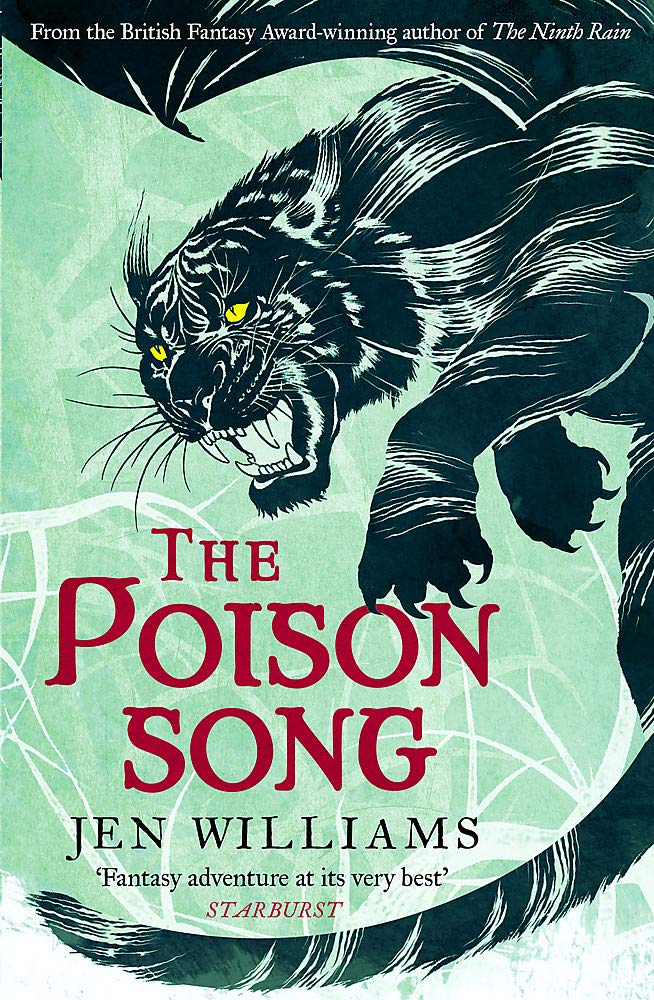 AUTHOR: Jen Williams
PUBLISHED ON: 16th May 2019
GENRE: High Fantasy, Adventure
STARS: 5 Stars
BOOK 3 OF WINNOWING FLAME TRILOGY
British Fantasy Award Nominee for Best Fantasy Novel (Robert Holdstock Award) (2020)
CONVINCING YOU TO READ THIS IN 6 WORDS: Found-Family, Adventure, Women Fighting back, Winnowfire,                                                                                            Epic battle, Legends & Myths
SUMMARY: 
The Poison Song picks up after the disasters of The Bitter Twins. At the end of the Bitter Twins, things are tilting in favour of the Jure'lia. And things are looking worse for the rest of Sarn. Having a glimpse of what the Jure'lia can do, the only hope they have to save the Sarn is to stop the Jure'lia before they destroy everything. Jure'lia have always lost before but why? Hestillion ponders on these thoughts. Witnessing the inner workings of Jure'lia and having the knowledge of the world around, she finds a way to lead them to victory. And lost in the happiness of the victories, her inner voice of questions and concerns take a back seat.
The fight against the Jure'lia bought so many questions to light and the answers didn't make it easy for them too. All of them are suffering the after-effects. Noon, having destroyed Winnowery, the other Fell witches having nowhere to go, end up in Ebora. Just having the taste of freedom and being trapped in another war, the Fell-witches are confused more than ever. Under the leadership of Noon and other Eboras, the Fell witches regain their confidence and join in to help save Sarn.
Noon, somehow finds herself trapped and in her search to find her way back finds answers she didn't realise. Remembering the memories she didn't realise she still had, Noon finds herself overwhelmed. And finally mastering her emotions, she finds her way back, stronger than ever.
Jure'lia with newly developed strategies start destroying civilizations one by one. And with each encounter, the face off between them is more and more dangerous. With the way to final showdown, we have flux-ridden Tor, Vintage and everyone ready for the final battle.
But is it enough? Is the union of Fell-witches, Eboras and rest of Sarn enough to withstand the Jure'lia?
The Curse of Winnowry is silence and forgetfulness.
MY THOUGHTS: 
I honestly have no words. Reading The Poison Song by Jen Williams gave my heart everything: an epic conclusion, never-ending mysteries, twists and turns, forming new bonds, testing the old ones, tears and a story that I will never forget. Honestly, what a conclusion! From page one, we are constantly moving. The first chapter itself was proof of how much potential this book has. And what shocked and amazed me at the same time is how much more there is to Sarn than we know. I mean every moment, every page we are still learning something new. This book had so much to understand- the origins of Winnow Flame, the presence of the Witches, the deeper understanding of how Jure'lia function, the deeper bonds with the war-beasts. I loved every minute of this glorious book.
Tor himself had been distant lately, morose even, his mind dwelling on the unfortunate revelations they had uncovered far across the sea.
There is always something that stands out in a story. At times, it is the plot, at times the satisfying ending, at times smut. What I loved most about The Poison Song is witnessing how much characters have grown. Each character, every one of them- be it someone with a 5-page space or someone with their presence all around, every character has shown remarkable growth. And damn…you can see them growing. It isn't the snap and shut. Bad or cocky on one page and an angel on another. We see them growing, page after page, after realising why what they previously thought wasn't correct, why their beliefs were wrong. And I began to care for all characters. No matter which side they fought on. No matter what they did in previous books. I simply wanted to huge them. I commend Williams seeing how easy it was to witness so deep changes. It again shows how brilliant a writer she is.
"…Or a giant kick up the arse. I am always happy to provide either."
There was a different satisfaction in witnessing Vintage in her style and character. I really really enjoyed how despite what she faced, despite the betrayal, she did not lose her way. She did not stop giving life or even love a chance. What was even more interesting was seeing her go through all these changes and yet not stop from doing what she had to do to save the world around her. And well, also proving everyone around, you can be a scholar and use a Crossbow just fine.
"Have you forgotten that you chase my brother and sister away from here? When I wanted them to stay and be joined with us?"
Celaphone. Just reading about Celephone brings a different set of emotions for me. Waking up and having no clue about who you are. Being told stories about your glorious past but not able to go and love them. Seeing your brothers and sisters out there, forming a bond and not being able to bond with them. Feeling confused, helpless and trying to help them. And yet not being one of them. I am just deeply invested in Celephone.
"If it's like a dream or a nightmare, there's a chance I could dream-walk into it."
Another amazing characterization that I loved was witnessing Tor's inner turmoil. How much he has grown. From being proud of who he is to realize that how they were created. From thinking, he is invincible to thinking that he is of no use. His insecurities, him hiding his pain. The true growth of this series can be spoken by just talking about him.
Tor would look back on the memory- of her eyes, dark and confused in the shadowy corridor, and how he had turned away- and curse himself.
The beauty of the book was hidden in how that one memory vexed the Jure'lia. How the Queen is desperate to find the answer and how a simple memory, a simple memory could manage to give them a hard time. What is even more amazing is what that memory represents. Ah. The cleverness of the Author.
I definitely can write about how many changes I loved in every one of them but that would spoil your experience.
"The world moves on without us bright weapon."
Coming to the plot of The Poison Song. It is a wonder how richness and freshness there is to the plot. When you read epic fantasy. Despite the changes, there is something that deep down feels repetitive and honestly, that is no one's fault. It is what it is. But the plot for The Winnowing Flame trilogy feels so new. Each book in the trilogy showers some problem and then we move ahead. And every time it is something unexpected. Sometimes when you see the plot and know what is coming, it is generally because of two reasons; First when the story is so damn repetitive and second because the writer has written a perfect tale, given you some perfect clues and allowed you to be a part of the story. Williams does two things- allows you to predict one thing and smacks you with other 99 things. The final show-down. The conclusion we all were waiting for. The moment what the previous books, The Ninth Rain and The Bitter Twins laid the foundation for. Unexpected, perfect and heart-wrenching. I wanted to scream as I read the final pages. Everything just came together and every character with their fears, their hesitations, their strengths came forward with just one goal in their mind- save Sarn.
"They are in love. That is your answer."
Something that I loved was reading the little notes before all the chapters describing the history of each Fell-witch. It gave so much perspective and outlook to the life faced by them.
I don't have anything else to say except urge every Fantasy book reader to pick up this series and give this wonderful book a chance. The Poison Song gave a conclusion and paid for all the promises the previous two books asked for and so much more. There is a part of me that will miss them and this series is something I know I will find myself re-reading. I can't thank Jen Williams enough for this masterpiece.
"What you're doing is a sacred duty, Maybe your visit here is a blessing?"
You can buy this book here.
The review for the previous books: The Ninth Rain and The Bitter Twins can also be found.
I read this amazing fanfiction right after finishing the trilogy and I was in tears. Cleansed in winnowfire by Arikoto on Ao3. Do give it a try.
SPOILER ZONE:
Reading through the initial pages and I cannot help but fall in love with how well, Bern and Aldasair are portrayed. How Bern is going through his stages of confusion, brokenness because of the connection. And how despite not being able to do something but Aldasair manages to be there and help him reduce his pain, even if by a small fraction.
Hestillion creating from flesh her own army. If that isn't an example of a badass woman what is? She is so interesting. And her own army. She creating her own brother? Well, not exactly a brother. but damn…you know what I mean.
If you enjoy my content, you can support me on Ko-fi.
BLURB
All is chaos. All is confusion. The Jure'lia are weak, but the war is far from over.
Ebora was once a glorious city, defended by legendary warriors and celebrated in song. Now refugees from every corner of Sarn seek shelter within its crumbling walls, and the enemy that has poisoned their land won't lie dormant for long.
The deep-rooted connection that Tormalin, Noon and the scholar Vintage share with their Eboran war-beasts has kept them alive so far. But with Tor distracted, and his sister Hestillion hell-bent on bringing ruthless order to the next Jure'lia attack, the people of Sarn need all the help they can get.
Noon is no stranger to playing with fire and knows just where to recruit a new – and powerful – army. But even she underestimates the epic quest that is to come. It is a journey wrought with pain and sacrifice – a reckoning that will change the face of Sarn forever.