Heliotrope by Palmer Pickering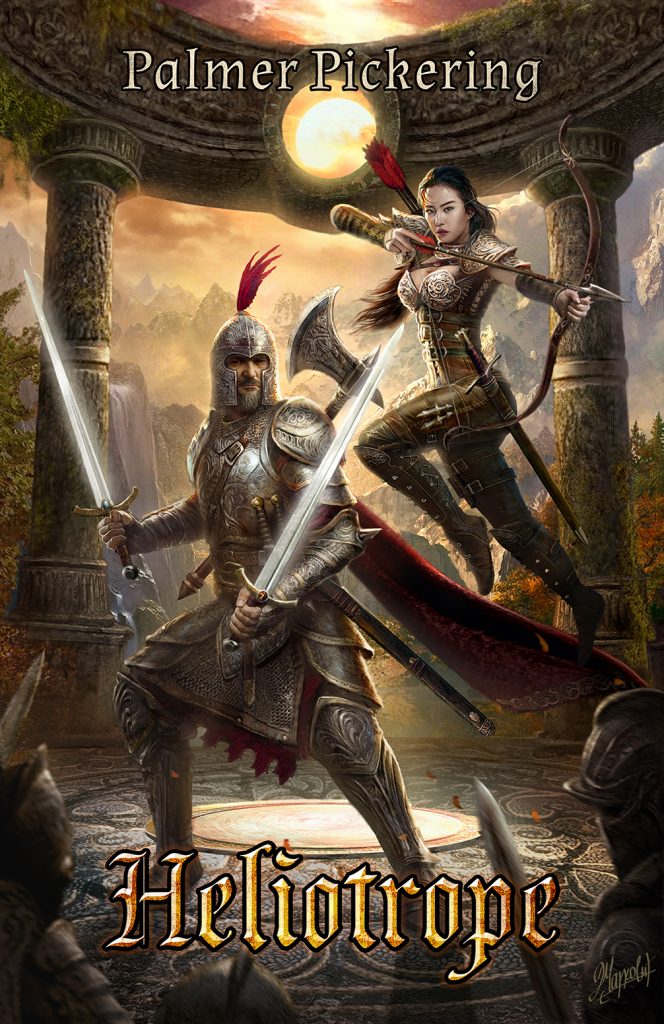 AUTHOR: Palmer Pickering
PUBLISHED ON: 23 November 2022
GENRE: Fantasy
RATING: 4.75 Stars
CONVINCING YOU TO READ THIS IN 5 WORDS: Found Family, Master-Apprentice, Lost magic, Animal companions & Political intrigue
Readers Copy provided by the Author Palmer Pickering and The Escapist Tours
REVIEW:
Heliotrope by Palmer Pickering is what Fantasy is all about. The package that you're always looking for, from story to characters, from emotions to making me stop and gasp.
I've to admit reading has been a mess this month, especially with all the work I'm busy with. And I know for a fact I would've enjoyed it so much more if I didn't have to stop reading every few minutes between work and students. But it says a lot that despite so much busy schedule, I managed to not only read the book managed to love it. Now, let's talk a little about Heliotrope, shall we?
There is something painfully beautiful in grief and bonds fostered in shadow of the grief. We sometimes come across characters where things don't make sense or rather there is just…how do I put it chaos everywhere. Don't get me wrong, we have chaos here too but the type that made me root for them. I love how the characters, writing, story- everything blended into one beautiful story. I've been wanting to read a standalone story for a long time but I am always skeptical because I want to know more. While I still do, I think Heliotrope is a standalone that I've wanted to read for a long time. Something that's a perfect package.
There goes a saying, when you do the right thing even in wrong situations, you're going to be rewarded in things that you can't even fathom. Maybe, it's because what I was discussing with my students, but I genuinely feel it was his destiny to awaken the magic. I LOVED. LOVED THE MAGIC SO MUCH. It's the little things. Especially when it's all connected to the past. The patterns, the system, everything is just perfect.
I often complain that standalone cannot do justice to Fantasy. I may have to take my words back, because of how well everything was flowing. We come across different places, each with their history or rather their lore, we come across the unique magic system, the animal companions- worth not just loving but dying for, we come across the grief, the sadness that creeps with the loss of family or fear of losing one, the politics that follows and the
I feel honored to read Heliotrope and I fear that this quick review won't do justice to the beauty this book offers. And I apologize for that. And I know I'll be updating the review soon.
BLURB:
Teleo is a retired soldier descended from Mages, who were cast out of power generations ago. After years of war and sorrow, he wants nothing more than to live a quiet life on his farm and work his stonemason's craft.
His wife and daughter had been murdered during a war raid several years earlier and his young son stolen by the enemy side. He spent years unsuccessfully searching for his son and returned home broken-hearted. At the local castle, he comes upon a war orphan stolen by his side from the enemy and rescues him from abuse, adopting him as his foster son.
Teleo is working at the castle when he finds himself in the middle of a coup. This launches a journey to protect his new family, uncover the secrets of the ancient ways, and reclaim the magic of the Mages.
ABOUT THE AUTHOR:
Palmer has been writing fiction since she was eight. She received her BA in American Studies from Wesleyan University, with concentrations in Religion and Race Relations.
She currently works in Silicon Valley in the gaming industry and high tech. In addition, Palmer holds a certificate in Chinese Acupressure, is a certified solar panel installer, and studied Tibetan Buddhism with the 14th Dalai Lama.
She lives and writes in the magical redwood forest of the Santa Cruz Mountains, California.
You can support me by buying me a Ko-fi.
Read my review for Wrath from the Mountains by D.A.Smith here.
Read my review for A Shade of Madness by Thiago Abdalla here.