A Crate of Rags & Bones by L.A. Nolan
A Crate of Rages & Bones by L.A. Nolan is a collection of short stories which deal with everything creepy. I am not a horror fan, I think I am simply too scared but I've been meaning to pick up horror stories to read and what better than collection of short stories?
Murder, mystery, and horror are baked to perfection and laid out on blood soaked velvet for you to devour at leisure in A Crate of Rags And Bones, creepy collection of twenty tales by LA Nolan
Published by Leadstart, it is available in all major bookstores and also on Amazon in Kindle and Paperback.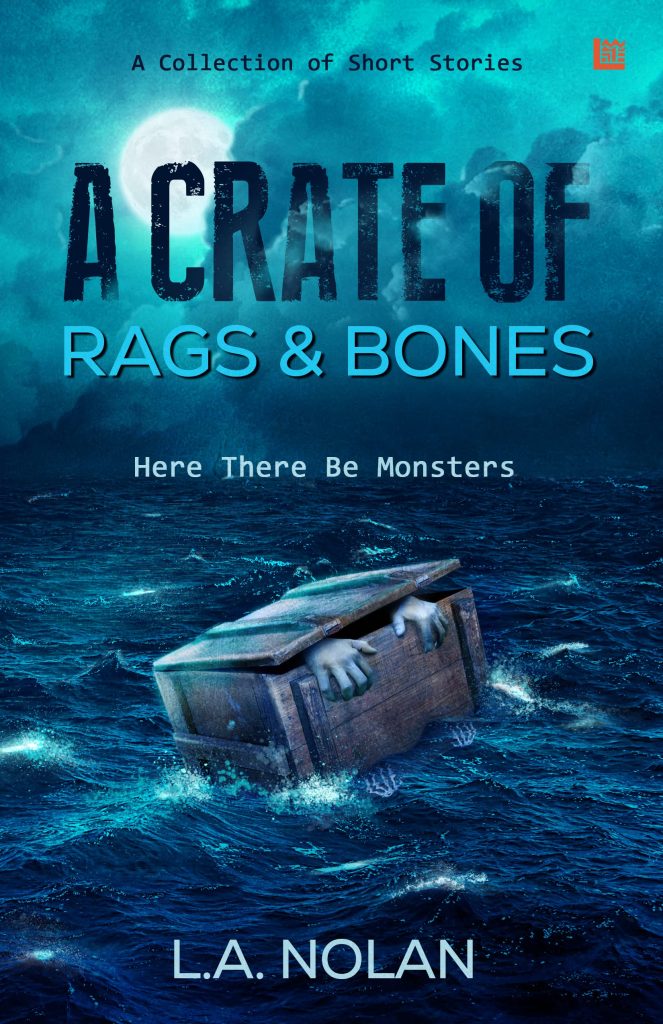 BLURB
These dusty crates are filled with twenty dark tales that have been penned specifically to frustrate your slumber and incite insomnia. A stew of sinister intent as it were. A pinch of horror, a splash of mystery, two dashes of murder, and smatterings of suspense have all been brought to a boil and congealed into this olio of evil.
Within, you will find witches cackling as they reclaim their youth, a snarling coy wolf in a fight for survival, a banshee wailing about her homicide, and long dead pirates howling for revenge. A judgmental apple tree observes illicit lovers, a tyrannical government of a dismal future punishes dissidents with impunity, and a distraught vampire who seeks his own demise. These, as well as a host of other characters, endure experiences that test the bounds of rational thought.
Each story is unique, with yarns spun across multiple timelines, spanning numerous countries and continents to draw taut your tether to comfort and reality. Whether in India, Canada, Romania, or England, peering through the dingy lace of a Victorian past, or shielding your eyes from the ominous glow of a dystopian future, these tales have been woven to shroud your heart within the inky black of pure terror.
Pry open each crate in the safety of daylight and with the utmost of caution, for here, there be monsters.
ABOUT THE AUTHOR:
Award winning author L.A. Nolan was born in Toronto, making him the first Canadian born member of his family, whose roots are set firmly in Liverpool, England.
Throughout his life, Nolan's restlessness encouraged relentless travel too many countries, and in 2012, he finally settled in India.
He took to exploring the country on motorcycle and began writing and blogging about his many experience. Then, after breaking several bones on a desolate mountainside in the Himalayas and riding back from Nepal to New Delhi injured and unattended, Nolan focused solely on his true passion of storytelling.
In October of 2021, Nolan released his debut crime thriller fiction novel, Blood & Brown Sugar, which won him the coveted Emerging Author of the Year – 2022 from Ukiyoto Publishing and voted Best Fiction Author 2022 by Literary Voice Magazine.
His macabre short story collection, A Crate of Rags and Bones is trending on Amazon right now.
Nolan lives in Bombay with his wife, a sarcastic beagle named Sweeney Todd, and two very naughty motorcycles, Wilhelmina and Elvira.
L.A. Nolan's releases;
⭐ Memoirs of a Motorcycle Madman, a collection of humorous travelogues.
⭐Blood & Brown Sugar, A crime thriller novel.
⭐ A Crate of Rags & Bones, a collection of macabre short stories.
⭐Sabaat of the Kali Dayaan, a short story in the Chandrayarn – Spin to the Moon anthology.
⭐A Wolf by Any Other Name, a short story in the HellHounds – Tales from the Bark Side Anthology.
⭐Hearts of Gold and Ash, a short story in the Abandoned House anthology.
⭐The Last Farewell, a short story in the My Hearts Sunshine anthology.
You can buy Amazon copy here.
You can support me by buying me a Ko-fi.
You can find other reviews by me here.
If you want to have your book reviewed or promoted, you can contact me here.