A Shade of Madness by Thiago Abdulla
AUTHOR: Thiago Abdalla
PUBLISHED ON: 24 January 2023
GENRE: Epic Fantasy
RATING: 4
BOOK 2 OF THE ASHES OF AVARIN
ARC provided by the author, Thiago Abdalla 
CONVINCING YOU TO READ THIS IN 6 WORDS: 
      Character Arcs, Religious & Political Intrigue, Betrayals, Plot-twists, Interesting world-building
You can buy the book here.
Review:
Death is merely one of the players. If you refuse to acknowledge that, you are at a severe disadvantage.
A Shade of Madness by Thiago Abdulla proved exactly what it is- MADNESS. The second book in the Ashes of Avarin series picks up exactly where we stopped in book 1, A Touch of Light. A Touch of Light had left all our characters in ashes and in confusion, questioning everything they knew. While, they are still questioning everything around, they are slowly trying to come in terms with things around, they are slowly realising how everything around has two aspects what is the truth and what they know. And honestly, I loved seeing this. This small- small things make this more realistic.
We follow the journey through 4 sets of eyes instead of 3 and what a brilliant addition.!! Kadmus, Nasha, Lynn and Adrian- the 4 of you have been a fantastic narrators and wow…just the way they are different and in hindsight facing the same problem yet how at different stages they are. I love how with each chapter, we see a new face. How despite knowing better, they make decisions that they don't want to but because they have to. How they are tested again and again and yet despite wanting to just let go, they are there and they are fighting. Love every moment here.
The best part about A Shade of Madness is characters and they way they are reacting. Don't get me wrong, the plot is amazing too. But the characters? They shined for me. Especially because with each new "truth" that came in their way, they grew. Despite their anger and all the WHAT THE HELL feelings, they faced it. Despite feeling betrayed, despite losing people in their way, despite repeatedly being lied too and abandoned, they managed to grow. And I LOVE THEM FOR THIS.
Wars are rarely born of logic, but there is unique opportunity for scientific advancement in the desperation of men fighting to protect all they hold dear.
Thiago did his magic and slowly despite the varieties and differences in their ideologies, their teachings, they are coming along well. I honestly can't wait to see the final picture. Is it too much to ask for the other two books already? Or it is acceptable?  From writing to the intriguing plot, everything is perfect, especially Griffins. You had to know that was coming. I read about Griffins a long time ago and I was always aware about the lack of books with Griffins, at least in front of me. But not anymore. I LOVE THEM HERE. Their fierce nature and their battle cry.
In short, if my rambling wasn't clear, A Shade of Madness is an amazing book that you need to pick up and enjoy every element you're looking for in a Fantasy world, including but not limited to characters constantly learning, betrayals, shocking truths, hidden truths and promises left unattended and well, death. Of course, add Griffins.
The power held in a griffin's heart is limited.
COVER: Have you seen this beautiful cover? I LOVE THE COVER FOR A SHADE OF MADNESS. The details. It's just amazing. An amazing job by Alejamdro Colucci
Double Page Illustration on Hardbacks of A Shade of Madness
BLURB
Avarin tumbles into madness through the shattered ruin of a centuries-old peace.
As griffin riders clash against airships above and hordes of madmen below, Lynn finds herself surrounded by enemies. Ones that will test the limits of her faith. To defeat them, she must risk everything… including her sanity.
Adrian has lost the Legion, but new magics on foreign shores might be the answer he needs to rebuild his army. His return to the Domain will bring vengeance, and the hope that he will finally prove himself to his father.
Nasha's curse has taken on a new, terrifying shape. She dreads it could be just what the dead goddess needs to escape from Her prison within the Silent Earth. Will she be strong enough to resist, or will Nasha's curse give rise to the monster she fears to become?
Madness is spreading and it cares not for the borders of men.
A Shade of Madness is the second book in the Ashes of Avarin series, picking up straight after the exciting conclusion of A Touch of Light.
ABOUT THE AUTHOR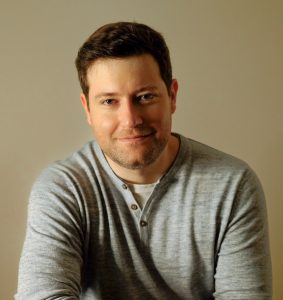 ABOUT THE AUTHOR: 
Thiago was born in Brazil but grew up in the fantasy worlds from the stories he kept in his mind. He has inhabited everywhere from Middle-Earth and Azeroth to the planes of Dominaria, Ravnica and Tarkir. No matter the medium, what kept him coming back was always his love for story.
He could never wait for the next world to dive into, so, after being (indirectly) urged on by the (printed) words of Joe Abercrombie, Mark Lawrence, Patrick Rothfuss, N. K. Jemisin and many, many others, decided to create his own.
You can find him on: Twitter, Instagram & Facebook.
You can support me by buying me a Ko-fi.
You can read the review for A Touch of Light and A Prelude to Ashes here.
You can buy the book here.