IF WE WERE VILLAINS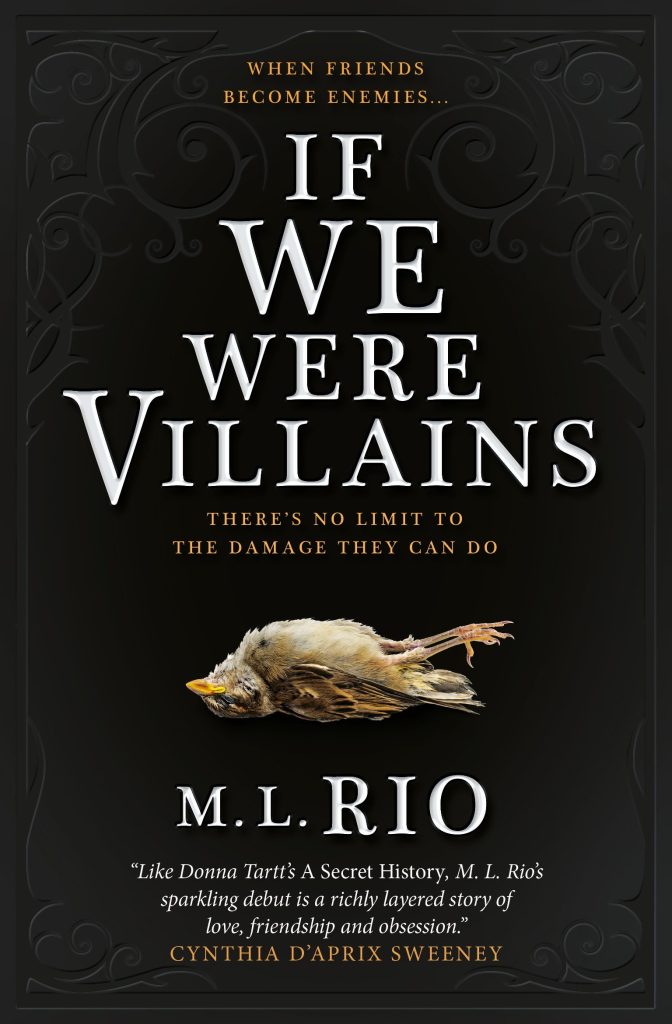 AUTHOR: M.L. Rio
PAGE NUMBER: 368 (Hardcover)
GENRES: Mystery, Literary Thriller, Adult and Contemporary.
RATINGS: 4 Stars
STANDALONE NOVEL
CONVINCING YOU TO READ THIS IN 6 WORDS: Beautiful and lyrical writing, amazing characters, theatre, Shakespeare based, Dark Academia & Intriguing plot.
SUMMARY:
If We Were Villains by M.L.Rio follows as Oliver narrates the story to the now retiring Detective Colborne. Thus, spanning over the years and mainly focusing on their close group of 7. Now, this group of 7 people who devoted their lives to their art, to theatre and Shakespeare were hardly someone who the world would understand and thus found a family within themselves. But then inevitable happens or rather, let's say, a tragedy follows them and suddenly they aren't closed group of 7 but a group of 6, trying to unravel the mystery of the dead. As we know, nothing happens overnight. Thus, we witness act after act, how suddenly a seed of jealousy grows within them; inevitably, something dark shadows the beauty of their friendship and their acts. How suddenly the fine line between reality and their performance blurs and none of us or them can distinguish the difference.
"For someone who loved words as much as I did, it was amazing how often they failed me."
MY THOUGHTS
I find there are different types of books, some books you read to know the story, to find the killer, to know if the kingdoms can be saved or how can we escape the inevitable doom of death etc etc etc. This book has an amazing story, I am not going to deny that but what I loved about If We Were Villians is the beautiful writing by M.L.Rio The words used – now and then, I would stumble upon some words, some sentences that I would just stop and marvel at the beauty this book has to offer.
There are books like If We Were Villains, where we can hardly distinguish between art and reality. The characters here have given so much of their life to learn, understand and breathe Shakespeare that when real life comes in their way, they don't know how to be around. And as much as fascinating it is, it is terrifying as well.
"What is more important, that Caesar is assassinated or that he is assassinated by his intimate friends? … That,' Frederick said, 'is where the tragedy is."
I will never stop appreciating the beautiful writing If We Were Villians offers. M.L.Rio is an amazing storyteller and I cannot stop thinking about the words she wove. Some words and sentences are that are so beautifully and so well-written that I would pause just to read them over and over again. I love how the writing here re-defined so many definitions. We all think we know what love is or what hate is, what tragedy is, what irony is. But do we really know it?
"But that is how a tragedy like ours or King Lear breaks your heart- by making you believe that the ending might still be happy, until the very last minute."
This literary thriller is something different from what I read in a long time. It wasn't difficult to start to care about these characters. I think it shows how much knowledge M.L.Rio has since we see witness Shakespeare's presence everywhere and how skillfully she created each character to show symmetry. It was a pleasure to witness how they change, how they grow, the layer after layer of frustrations, guilt, shock, betrayals, anger, longing, jealousy and unexpected yet expected rivalry.  And all this leads to one question – what happened that fateful night when things changed for the worse. There are so many finer details about the characters, how different they are from each other, how much their background, childhood, life differs but when they are all together, connected by their love for theatre, words and Shakespeare, nothing matters.
The part that I enjoyed a lot was when the role they were supposed to play was different from their usual roles. And I guess the reason I enjoyed it so much was because none of them was expecting something like this and it was a challenge, a shock for everyone to see others performing the role they generally performed.
This book will take you on a journey, keeping you on your toes and inevitably making you fall in love with lyrical writing. And then smack you hard with the ending. And one question that will never leave your mind:
How far will you go for love?
Per aspera ad astra. I'd heard a variety of translations, but the one I liked best was Through the thorns, to the stars."
( For anyone who thinks they should have read Shakespeare to read this book, that is not the case. Of course, if you have read him before, things will be easy to comprehend but it is in no case a necessity. I haven't read him before and yet I loved the book.)
I would highly recommend If We Were Villains to fans of dark academia, literary thrillers and anyone who would love to enjoy beautiful writings.
You can buy the book here.
REEL FEATURED: Aesthetics and amazing quotes for If We Were Villains can be found here.
BLURB: 
Oliver Marks has just served ten years in jail – for a murder he may or may not have committed. On the day he's released, he's greeted by the man who put him in prison. Detective Colborne is retiring, but before he does, he wants to know what really happened a decade ago.
As one of seven young actors studying Shakespeare at an elite arts college, Oliver and his friends play the same roles onstage and off: hero, villain, tyrant, temptress, ingenue, extra. But when the casting changes and the secondary characters usurp the stars, the plays spill dangerously over into life, and one of them is found dead. The rest face their greatest acting challenge yet: convincing the police, and themselves, that they are blameless.
Review for We Are Okay by Nina LaCour can be read here.