I am so happy to be a part of the cover reveal for At the threshold of the universe by T.A.Bruno, the third and final book in The Song of Kamaria series. 
BOOK: At the Threshold of the Universe
AUTHOR: T.A.Bruno
GENRE: Science Fiction
BOOK 3 INTHE SONG OF KAMARIA SERIES
ABOUT THE BOOK: 
ALL SONGS END.
War ravages Kamaria as an old enemy resurfaces from the depths of the ocean. Offering no support in the coming battles, the Auk'nai isolate themselves in their tightly guarded Nest. Outgunned and outmatched, the fate of humanity once again trembles on the edge of obliteration. 
The Castus family is torn apart. Denton fights on the front lines, hoping to free Cade from a nightmarish foe. Meanwhile, Eliana and Nella set out on a path that will change everything they understand about the Sirens. The Song will end, but who will remain to hear its final verse?
AND THE COVER FOR THE BOOK IS…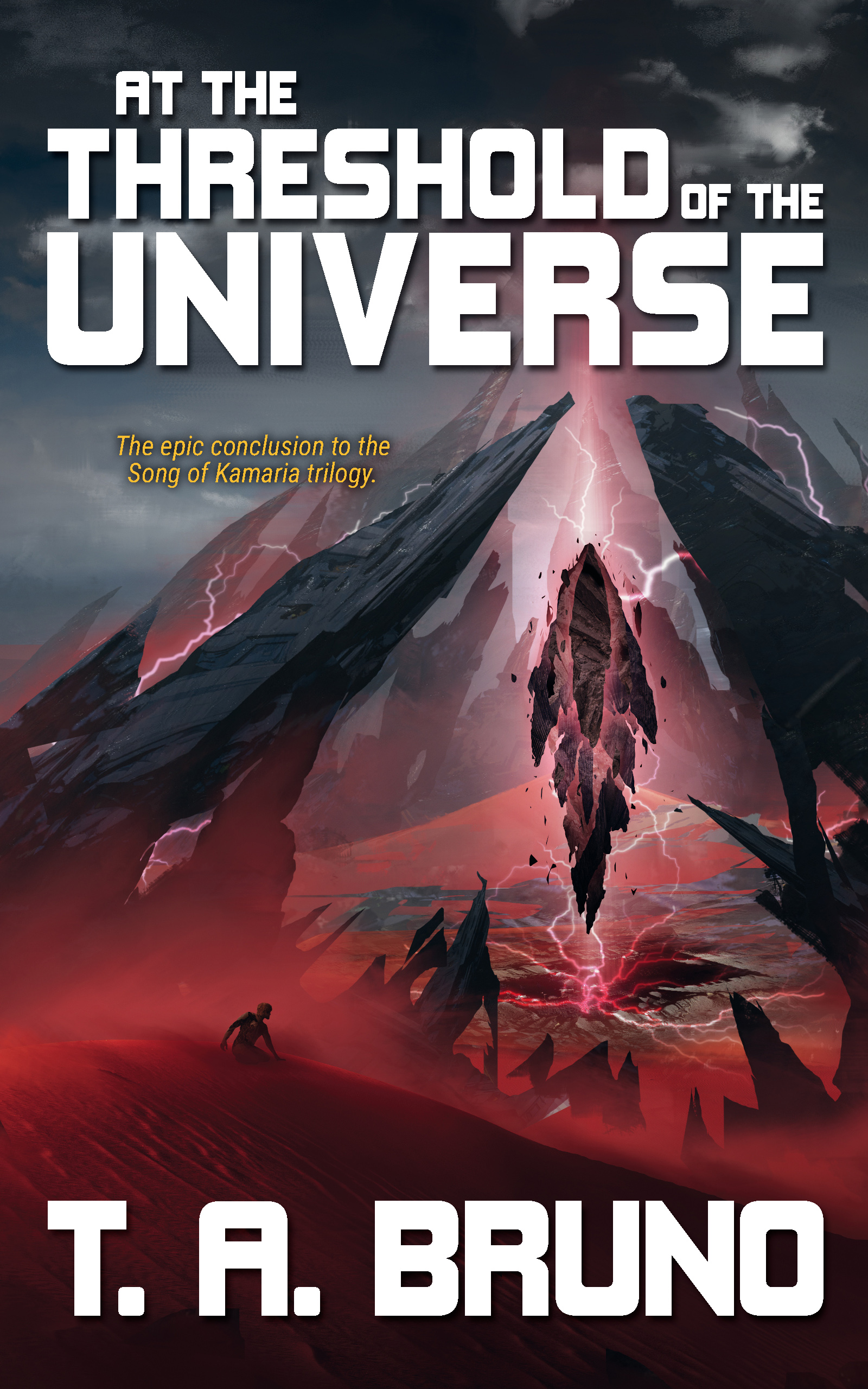 COMMENTS:
I mean just look at the cover. Doesn't it just scream and promise some epic adventure? I am so amazed by the colours and shades used, making it so attractive. Now, we all say, don't judge a book by the cover. But when the covers are so pretty, you want to judge the book. I admit I haven't read the previous books but looking at this cover makes me want to stop everything and read them just to understand the details of this cover in a better way.
Thank you so much to Escapist Book Tours for letting me be a part of the cover reveal team for At the threshold of the Universe by T.A. Bruno.
ABOUT THE AUTHOR:
T.A. Bruno grew up in a suburb south of Chicago and moved to Los Angeles to pursue a career in the film industry. Since then, he has brought stories to life for over a decade as a previsualization artist. At home, he is the proud father of two boys and a husband to a wonderful wife.
You can find him on Instagram, Twitter & Facebook

BOOK 1: In the Orbit of Sirens (You can buy it here)

BOOK 2: On the Winds of Quasars (You can buy it here)

At the Threshold of the Universe reveal stops

You can support me by buying me a Ko-fi.
You can find other reviews by me here.
You can read an article for Creation & Destruction here.
If you want to have your book reviewed or promoted, you can contact me here.