WINGS OF THE STORM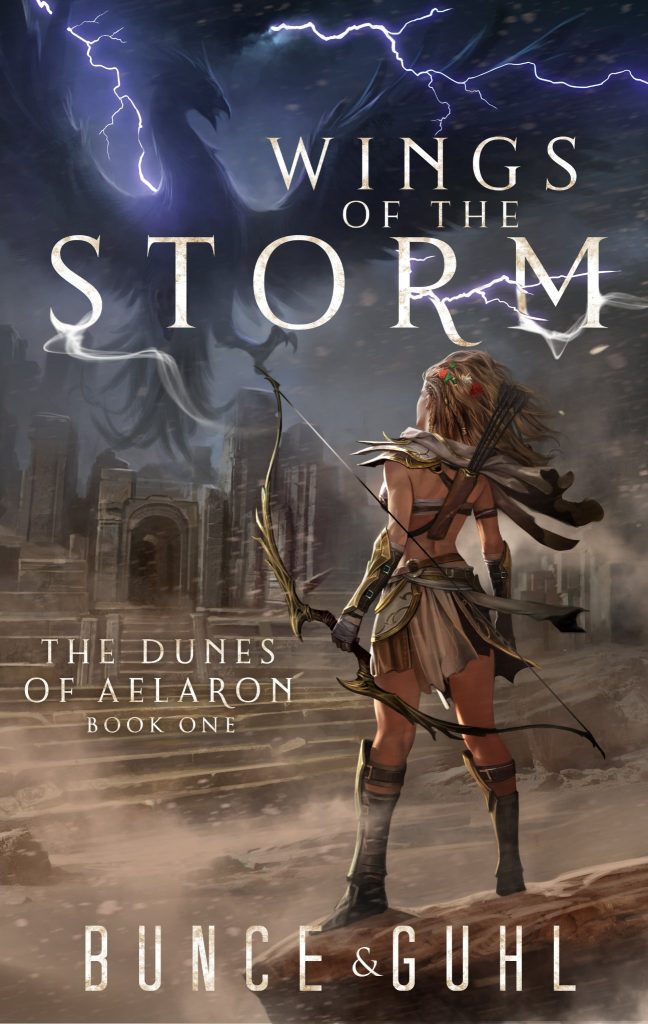 AUTHOR:
PUBLISHED DATE: 29th August 2022
GENRE: Fantasy
MY RATINGS: 3.75/5
Book 1 in THE DUNES OF AELARON series
Read for the Book Tour organised by The Escapist Tours
REVIEW:
Wings of the Storm by Aaron Bunce and Christopher Guhl was a pleasant and griping read. I knew nothing. I just read the first line of the blurb and I wanted to know more. I wanted to read it. I love slave stories, especially when done right and in Fantasy setting. And I enjoyed it so much.
Reading stories based on human slaves can become a tricky topic while it is amazing to read and heart-wrenching, especially in imaginative world, if not written well, it leaves a very bad taste. I read one book and hated it. Glad to see that was not the case here. I love how despite being the first book in the series, we witness a fast paced story. From the action sequence in prologue to the ending, there was a consistent pace, some scene being exception.
I love how Wings of Storm tries to be a blend between traditional fantasy stories and uniqueness. From the dessert setting to  the companions, from main characters to the animal companions, every aspect is interesting. Something that I've come to realize is just how much research goes behind each books and now, reading this book, I am not surprised, I am positive hours were spent on researching and trying to bridge the gap between what story was beginning with to  what we get to read today.
I also commend the writing flow of the book. We don't come across poetic devices for every sentences but the writing just flows. Honestly, I was thinking how this book is co-authored, just how they wrote this book? I am always fascinated with co-authored books, because it's not just not about writing, it's about so much more. Though I think it does help to brainstorm ideas as tehy write. And I am going off track. Coming back to the writing of the book, I am a simple reader, while my love for Fantasy and SFF books is at peek, sometimes there are books that have too much and you're just trying to understand what is written rather than story as a whole.
I ENJOYED READING ABOUT VAYO. I love how real she seems. A tad refreshment from the last series, I binged. Vayo is expressive and that's what makes her human. Be it showing her insecurities or her boldness. I love how we witness her thrust into situations after situations and slowly we see her evolve. And more than that, I love her curious nature. It just shows how much more we will witness about her in the further books.
I'd like to mention that despite being a YA book and avoiding YA book for a while, I enjoyed this. It is a long way from the typical YA novels. I'd definitely recommend this book, it will end up surprising everyone. Wings of Storms is nothing but a blend of genres, emotions and expressions that will make your emotions high.
If you enjoy my content, you can support me here.
BLURB:
My name is Vayo, and I am a slave.
My people lived in Argia, the City of Light, before Nabonidus the Defiler swept across the land. He
conquered, murdering and enslaving the other tribes. I was born after the fall, in a crumbling pit of
despair and sadness.
Nabonidus crowned himself ruler of the land, building his new kingdom from the rubble of our fallen
world. I live and serve them now, my head bowed, and my eyes down. That is, until a master servant
chose me.
My new duty? Attending the King himself, serving the man that ruined my people. Desperate for
blessings, I placed an offering to the Mother Goddess on my roof. Afterwards, I fell into a strange dream.
One where I soared over the dunes on wings of radiant feathers. Shouts and screams startled me awake,
and I watched as the King's men carried my friend away. I followed, deep into dark tunnels beneath my
fallen city.
Fleeing the horrors I witnessed below, I hid in the one place they would not think to look. Inside that
forbidden temple and buried beneath the rubble of our broken past I stumbled upon a peculiar sight.
A beautiful warrior, with her arms wrapped around a shimmering, blue egg.
Life as I know it will never be the same.
You can read review for Malice here.